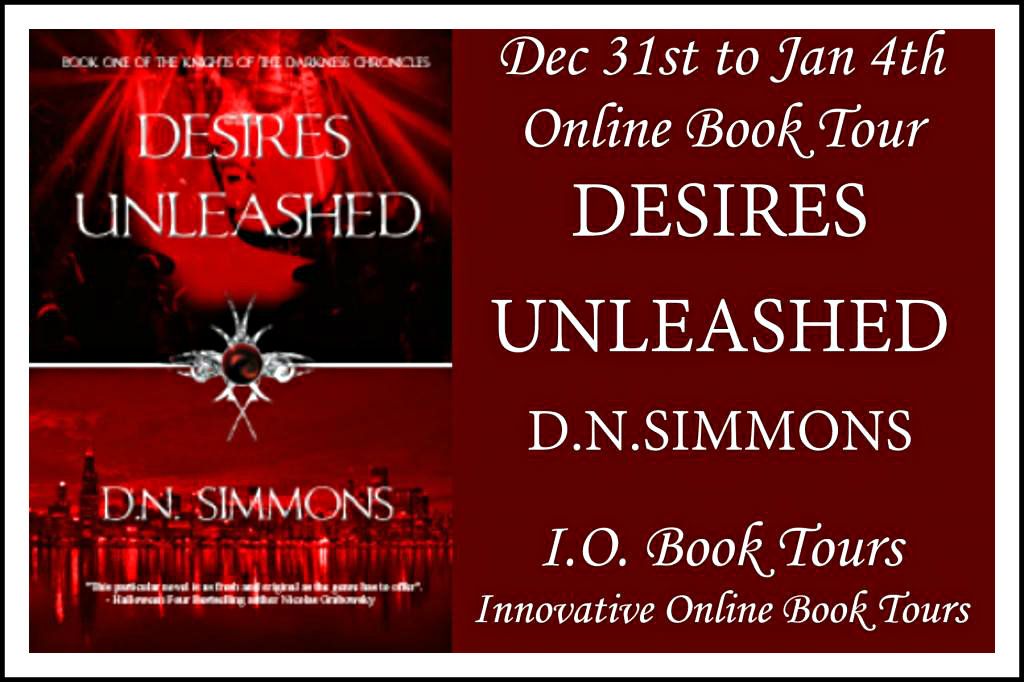 BLURB:
Desires Unleashed is the first novel in the riveting,
highly-addictive and sexually-charged Knights of the Darkness Chronicles.
Experience the heart-pounding thrill of the chase in this electrifying
page-turner as you uncover the mystery behind the series of gruesome killings
that have been terrorizing the citizens of Chicago.

When a grisly decapitated corpse pops up on a Chicago Street,
drained of blood, the highly-trained, government-funded special police force
assigned two of their best detectives to the case. S.U.I.T. Detectives Warren
Davis and Matthew Eric delve deep into their investigation to discover just who
or what is leaving mutilated bodies
in public places. They soon realize that the killer or killers is one step
ahead of them and if they are going to stop the menace before another innocent
human is viciously attack, they are going to need help.

Natasha Hemingway liked her life just the way it was... normal
and supernatural-free. The vampires and shape-shifters were just where she
wanted them to be--far away from her. All was going well until an unfortunate
accident landed her in the hospital. It was then that she discovered she had an
ability that could help her save countless lives. All of a sudden, she finds herself
thrust into the dangerous and alluring world of the supernatural and into the
arms of two very sexy and deadly vampires.

Original, gritty and sprinkled with just the right amount of
humor and wit, the Knights of the Darkness Chronicles will suck you in and take
you for a ride you won't forget. You don't want to miss out on this amazing
series


INTERVIEW:

About the Book:
Give me the blurb for the book in 140 characters or less.
Original, dark, sexy and addicting. You don't want to miss out on this series!
Do you have a favorite character? Why is he/she your favorite?
I've written some wonderful characters which make it impossible for me or my readers to choose just one to call their favorite. Each character has their own lively personality that just captures your heart and attention.
What do you hope readers will get from your book?
I think all any writer really wants is to entertain their readers. However, I do want to show a different style of urban-fantasy that readers may not be familiar with. The Knights of the Darkness Chronicles is darker than most urban-fantasies, so much so, it could be considered dark urban-fantasy. There is a lot of action, gore, sex as well as wit and humor and the characters are very relatable and realistic. Each book is anything but predictable.
About the Author:
What/Who inspires you?
I'm inspired by great storytellers. I love anything that's original and engrossing, so I'm a fan of Anne Rice, Stephen King, Mercedes Lackey, Joss Whedon, Eric Kripke and Stan Lee.
Hardest aspect of writing?
I haven't really had a hard time writing. For me, I've been fortunate because the stories just flow. However, editing can be a pain. LOL. Best/Easiest? The best part is seeing how much something you've created pleases so many other people and gives them so much entertainment.
Who is your writing hero?
If I had to narrow it down to just one, It would be Eric Kripke. I think his Supernatural series is one of the most highly entertaining and original television shows ever created. The characters have great depth and each episode builds upon the last with consistency.


About the Future:
What's next for you?
I'm currently working on a new series and I'm kind of hush-hush about it right now because it's in the beginning stages.


One outrageous goal for the future?
I try to make all of my goals realistic ones, so I don't think I have anything too outrageous in the making.
Do you have any advice you'd like to share with other aspiring writers?
Try your best to be original, readers really appreciate it when they read a book and discover that it was truly something different from everything else they've read.
Randomness:
Sweet or salty?
Both and it depends on the food. However, I don't like the two mixed together.

Beach, plains or mountains?
All three because they are all beautiful.
Online, letters or in person?
Online because you get responses faster, but if I'm meeting with friends and fans, I enjoy the more personal touch.
Ebook or print?
Ebooks. Ever since I got my hands on a Kindle, I've been addicted to ebooks.
AUTHOR BIO:

D. N. Simmons lives in Chicago IL., with a rambunctious German Shepherd
that's too big for his own good and mischievous kitten that she
affectionately call "Itty-bitty" Her hobbies include rollerblading,
billards, bowling, reading, watching television and going to the movies.
She has been voted "Rising Star" and nominated at Love Romances and More,
winning honorable mention for best paranormal book of 2006. She has won
"Author of the Month" at Warrior of Words. She was voted "New Voice of
Today" at Romance Reviews.

To learn more, and have the opportunity to speak with the author
personally, please visit the official website and forum at dnsimmons.com .
D.N. is always interesting in meeting new and wonderful people.


ONLINE LINKS:· Website http://www.dnsimmons.com
· Facebook
http://www.facebook.com/profile.php?id=100000552496587&ref=tn_tnmn
· Twitter
https://twitter.com/#!/DNSimmonsKOTD
· Goodreads
http://www.goodreads.com/author/show/1396694.D_N_Simmons
· Youtube http://www.youtube.com/watch?v=Mu3yBn5HoNM&context=C4690017ADvjVQa1PpcFP3d927Nqnw0bi%20GGRU000OHbCoS-3qN6Jo=
The Guilty Innocent (Knights of the Darkness Chronicles (Book Two)
The Royal Flush (Knights of the Darkness Chronicles(Book Three)
Hostile Territory: Knights of the Darkness Chronicles (Book Four)
The Lion's Den (Knights of the Darkness Chronicles(Book Five)
Unholy Alliance (Knights of the Darkness Chronicles)